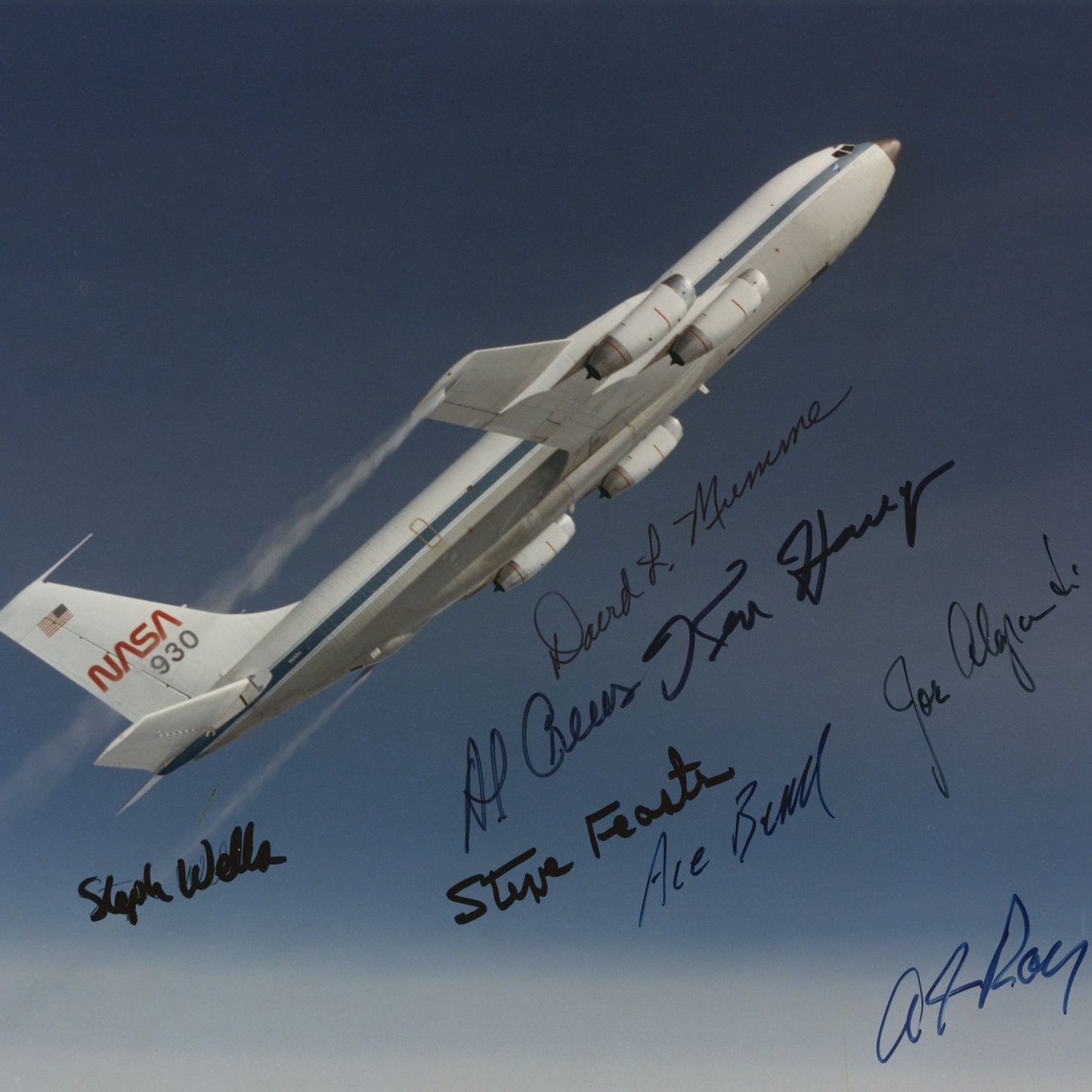 Our FRONTIERS OF FLIGHT auction boasted 750 lots spanning 100 years of Space & Aviation History. It celebrated the accomplishments and achievements of the aeronautics field with impressive offerings of autographs, flown artifacts, first day covers, and much more. Buyers showed their strong interest and support with an action-packed auction resulting in many lots exceeding their high estimates. 
Highlighted Below Are The Top-Selling Lots
LOT#122 | APOLLO 7 FULL CREW AUTOGRAPHED ORIGINAL NASA 10 X 8" PHOTO SIGNED BY SCHIRRA, EISELE & CUNNINGHAM
A 10 x 8" photograph capturing the full crew of Apollo 7, authentically autographed by Wally Schirra, Donn F. Eisele, and Walt Cunningham. The image features all three astronauts wearing their NASA jumpsuits during a mission debriefing at the Kennedy Space Center following their 1968 flight. The final selling price was $425 (*Includes Buyers Premium) which surpassed the estimate of $250-300. 
LOT #69 | JUAN T. TRIPPE - COMMERCIAL AVIATION PIONEER: FOUNDER OF PAN AM - AUTOGRAPHED 8 X 10" PHOTOGRAPH
Juan T. Trippe autographed 8 x 10" photograph. Juan Terry Trippe (June 27, 1899 – April 3, 1981) was an American pioneer in commercial aviation, an enterprising entrepreneur, and the visionary founder of Pan American World Airways. With an estimate of $125-$150, the final selling price was more than double coming in at $375 (*Includes Buyers Premium).  
LOT #40 |CLARENCE L. "KELLY" JOHNSON - LOCKHEED ENGINEER - AUTOGRAPHED COMMEMORATIVE POSTAL COVER
Autographed commemorative postal cover featuring the signature of Kelly Johnson. Clarence Leonard "Kelly" Johnson (February 27, 1910 – December 21, 1990) was an American aeronautical and systems engineer, acknowledged for his pivotal role in shaping significant aircraft designs, with notable involvement in projects such as the Lockheed U-2 and SR-71 Blackbird. The final selling price came in at $325 (*Includes Buyers Premium) which went far beyond the estimate of $125-150. 
LOT #102 | PAUL TIBBETS - ENOLA GAY PILOT, ATOMIC BOMB - AUTOGRAPH 18 X 24" FINE ART PRINT
Autographed by Paul Tibbets, this piece is an 18 x 24" fine art print of the Enola Gay, named "Atomic Warfare is Born." Paul Warfield Tibbets Jr. (February 23, 1915 – November 1, 2007) served as a brigadier general in the United States Air Force. He gained prominence as the pilot of the B-29 Superfortress, named the Enola Gay (after his mother), responsible for dropping Little Boy, the initial atomic bomb used in warfare, on the Japanese city of Hiroshima. Estimated in the $100 to $150 range, the ultimate selling price went far beyond expectations, reaching $287.50 (*Includes Buyers Premium). 
LOT #3 | APOLLO 8 MOON-FLOWN KAPTON FOIL ARTIFACT ON CUSTOM FLORIAN NOLLER TRADING CARD
This Apollo 8 Moon-Flown Kapton foil trading card greatly enticed bidders with its affixed flight-flown relic. The original estimate was $125-150, yet the final selling price was an impressive $250 (*Includes Buyers Premium). 
LOT #25 | FREDERICK WALKER BALDWIN - AVIATION PIONEER PARTNER OF ALEXANDER GRAHAM BELL - DUAL SIGNED POSTCARD
Frederick Walker Baldwin vintage postcard, measuring 5.375 x 3.375", bearing dual signatures on both the front and verso sides. Frederick Walker Baldwin (January 2, 1882 – August 7, 1948), alternatively recognized as Casey Baldwin, stood as a pioneer in hydrofoil and aviation. He notably collaborated with the renowned inventor Alexander Graham Bell. Despite the initial estimate ranging from $40 to $50, the postcard exceeded expectations, ultimately reaching a final selling price of $137.50 (*Includes Buyers Premium). 
We are actively seeking autographs, artifacts, and documents from space missions, such as Apollo 7 and Apollo 8 and beyond.  We are particularly interested in collections of aviation materials, notable pilots, aerospace, aircraft engineers, designers, and wartime memorabilia of the aeronautic fields. If you're interested in selling or consigning your space and aviation collectibles, records, pictures, and associated items, please get in touch with us today.